About The Maven

Maven's Secrets

Ask The Maven

Home Page

WEB CLIENTS















TM


©1997-2012
Digital Maven LLC
All rights reserved.

info@digitalmaven.com








Internet Secrets Revealed!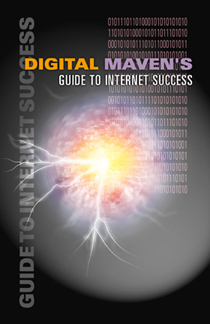 If you want to be a success on the Internet, you need a competitive edge.



Knowledge is POWER!


Whether you're thinking about creating an Internet site, or you have one already, this all-inclusive easy-to-use guide to the Internet is a recipe for success. Discover the secrets quickly. Exploit the methods described in this guide from an insider's real-life experiences. Learn targeting tips, branding techniques and insightful positioning strategies to rise above the competitive chaos and build a prosperous Internet presence.


SOLD OUT
This book will give you a straight-forward, simple action plan for creating and maintaining a successful web business. Read it and use it, then Email The Maven with your own success story!


Testimonals...

"This is a well-structured, informative, and concise book. The glossary is an added bonus-- it not only defines familiar terms for neophytes, but also contains clear definitions of terms that web veterans will find useful. The book is a terrific resource for entrepreneurs."

Mary Boone

Author of "Managing Inter@ctively"

"Just a few web sites you recommended have helped tremendously. The number of visitors to my web site has grown steadily. 10,000 visitors a month, most of it attributable to having taken your advice on how to increase traffic. I use your book constantly as a reference - there are so many helpful ideas, it is difficult to say which one helped me the most."

Zachary Adelson

TechnicalIndicators.com

"Annie's book succinctly shows why she is the 'Digital Maven'. She's a seasoned Internet pro who can teach the rest of us how to make the Web a positive and profitable experience-- from creating our presence to forging deals to bringing visitors back again and again. It's a must read for anyone interested in finding a successful place on the World Wide Web."

Jeff Zbar

Author of "Home Office Know-How" and "Your Profitable Home Business Made E-Z"

"Digital Maven's Guide To Internet Success is a concise, practical guide for building successful web sites that's easy to understand and doesn't burden the reader with an overabundance of technical informaton. The content is straightforward and logically put together, much like a successful web site should be."

Gary Korb